Manage and monitor city resources
NEC solution allows KPIs (Key Performance Indicators) to be referenced and visualized quickly. Thus, it is possible to see multiple indicators and analyse the trends of the city through tables, graphs and maps in a very intuitive way.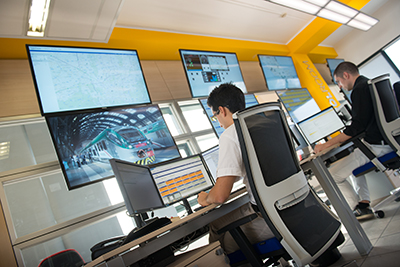 Automating the analysis of public indicators, conclusions can be drawn easily and city planners can focus on taking operational and strategic decisions in the medium-long term for a better use of the resources, a more optimized operation with a lower economic investment and less environmental impact, in short, a better city for citizens.
Now, thanks to the analysis of historical behaviour, is possible to anticipate and act in real time before certain situations, this allows to establish future forecasts based on a wide range of environmental parameters: temperature, pollen, noise, carbon monoxide and lighting. Analyse data, audio and video for the prescription of the best way to act.
Offer better services to citizens
Public spending is reduced by improving the efficiency of processes and resources, which makes it possible to invest in the improvement of current services or in offering additional services to both citizens and companies. In addition, NEC offers an open ecosystem for the creation of applications and services for citizens, thus covering all technical and commercial aspects.